Integrated Diagnostics
All of our customers are unique and need specific diagnostic devices for their intended healthcare applications. We have already researched, tested, and integrated a number of devices that are ready to be implemented in your custom solution.

Telehealth Consultations
We combine real diagnostic data with personal, interactive telehealth consultations creating a truly hybrid telemedicine model. Give your patients an elevated point of care experience.
Integrated

Telemedicine Platform

Our API-driven Telemedicine Platform integrates hospital-grade medical devices providing biometric data capture at the remote point of care creating elevated hybrid telehealth experiences. Our intuitive, user-friendly interface is designed to allow medical professionals to quickly and effectively gather vitals prior to a telehealth consultation.
Diagnostic Telemedicine Platform
The custom-built platform gives the medical assistant or medical professional the ability to load a patient into the system and perform various diagnostic exams using integrated peripherals for automatic biometric capture. The diagnostic user interface is touch enabled using a Microsoft Surface Pro 7+ loaded with CSI Health's Diagnostic API and intuitive user interface. The operator chooses from a set of ad-hoc exams or predetermined health screening workflows.
The X1 Mobile can be used for synchronous telemedicine sessions in a connected environment or can operate in a store-and-forward mode when disconnected from internet connectivity. The Kit is equipped with ethernet, Wi-Fi capabilities, and can be adapted for cellular or satellite modem capabilities based on customer need.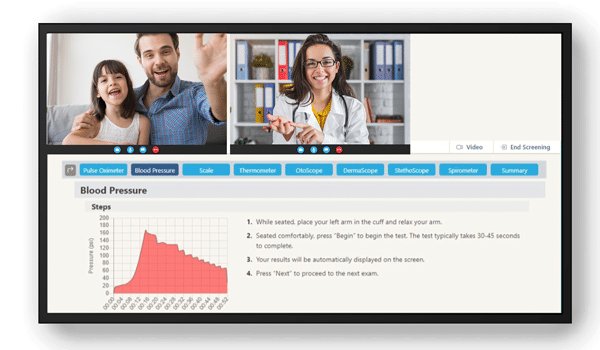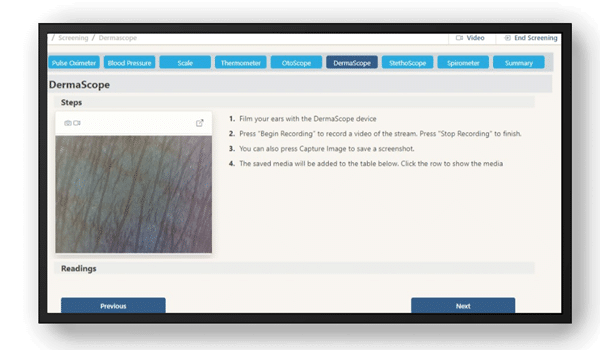 Custom API Integration and User Interface
Customers can choose to integrate directly into their medical records system (EMR/EHR), transmit the data to secure, HIPPA compliant servers either on premises or in the cloud, or through a variety of other secure file transfer methodologies. We consult with each customer to design a custom solution from data capture to transmission. We can also work with each client to design a custom UI/UX that is privately branded and fits within pre-established brand standards.
Modular Expandability
Current Integrated Devices
12-Lead EKG/ECG
High-Definition Dermoscope
Pulse Oximeter
High-Definition Otoscope
Digital Stethoscope
Blood Pressure Cuff
Glucometer
Infrared Thermometer
Request Information
Contact our sales team: (800) 533-9230 or complete the form below to request more information.